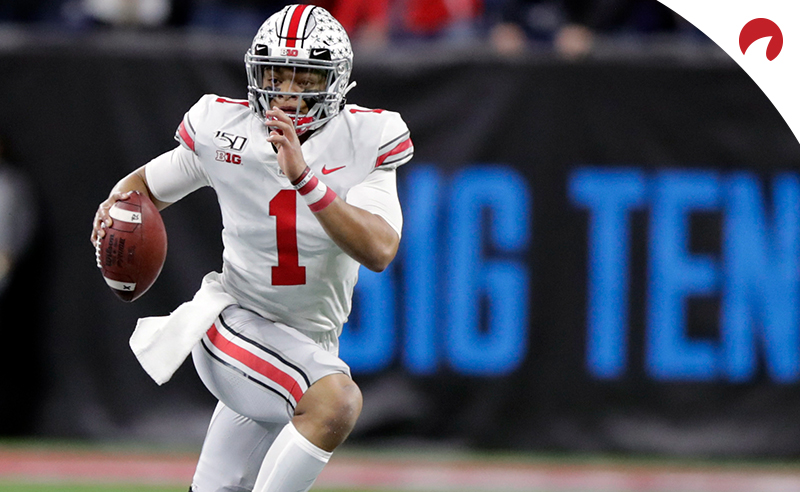 The No. 1 Clemson Tigers made yet another jump in the 2020 College Football Playoff National Championship odds (+180 down to +120) this week after a decisive 73-7 beatdown of Georgia Tech in Week 7.
However, business is about to pick up as Big Ten football kicks off this weekend and the second team on the oddsboard, the Ohio State Buckeyes, finally get a chance to show what improvements they've made since last season.
Online sportsbook Bovada has released the 2020-21 national championship odds and has listed Clemson as the +120 favorite. The Tigers are followed by Ohio State at +300, Alabama at +325, Georgia at +1400 and Florida at +2000 to round out the top five teams on the oddsboard.
See Odds Shark's Best NCAAF Sites
2020-21 College Football National Championship Odds
| Team | Odds |
| --- | --- |
| Clemson Tigers | +120 |
| Ohio State Buckeyes | +300 |
| Alabama Crimson Tide | +325 |
| Georgia Bulldogs | +1400 |
| Florida Gators | +2000 |
| Notre Dame Fighting Irish | +4000 |
| Penn State Nittany Lions | +4000 |
| Texas A&M Aggies | +4500 |
| Wisconsin Badgers | +6000 |
| Michigan Wolverines | +7500 |
| Miami Hurricanes | +8000 |
| USC Trojans | +8000 |
| BYU Cougars | +10000 |
| Oklahoma State Cowboys | +10000 |
| Oregon Ducks | +10000 |
| Iowa State Cyclones | +12500 |
| Minnesota Golden Gophers | +12500 |
| Oklahoma Sooners | +12500 |
| Kansas State Wildcats | +15000 |
| North Carolina Tar Heels | +15000 |
| Texas Longhorns | +15000 |
| Washington Huskies | +15000 |
| Auburn Tigers | +20000 |
| Central Florida Knights | +20000 |
| Iowa Hawkeyes | +20000 |
| LSU Tigers | +20000 |
| Memphis Tigers | +20000 |
| NC State Wolfpack | +20000 |
| Cincinnati Bearcats | +25000 |
| Utah Utes | +25000 |
| Virginia Tech Hokies | +25000 |
| Arizona State Sun Devils | +30000 |
Odds as of October 20 at Bovada
New to the college football scene? Check out our handy college football betting guide to help you get in the action. Also, keep an eye on our College Football Odds page for the latest up-to-date betting lines.
Clemson Continues To Roll
It has been a relatively stress-free start to the 2020 campaign for Clemson as it has jumped out to 5-0, outscoring opponents 242-60. The Tigers knocked off the first of two ranked opponents on their schedule, topping then-No. 7 Miami 42-17 last week.
Trevor Lawrence, the Heisman Trophy hopeful and projected first overall pick in the 2021 NFL Draft, has gotten off to a red-hot start. The junior QB has completed 73 percent of his passes for 1,544 yards with 15 touchdowns and one interception.
The next true test for Clemson will come at No. 3 Notre Dame on November 7. Assuming the Tigers take care of the Fighting Irish, they will carry the No. 1 seed into the College Football Playoff and thus have the shortest college football national championship odds.
Ohio State Instantly Climbs To No. 2
With the Big Ten announcing on September 16 that play would resume again in late October, Ohio State (+300) is immediately worth a wager, despite having less time and fewer games to prepare for a playoff appearance.
Similar to Clemson, Ohio State returns its starting QB, Justin Fields, who was a 2019 Heisman Trophy nominee and finished the season with an impressive 41-3 touchdown-to-interception ratio.
Additionally, the Buckeyes had the fourth-best recruiting class for the 2020-21 season, including bringing in the top-ranked wide receiver in Julian Fleming and the top-ranked offensive lineman, Paris Johnson Jr. Fields will have weapons all around him and this OSU team should be one to watch when they hit the field.
Notable Risers After Week 7
Oklahoma State +15000 to +12500
Although the Cowboys were held off the field last week as their game with Baylor was postponed due to the coronavirus, their odds shifted upward by a small margin. I list them as a notable riser because Oklahoma State is the lone Big 12 squad that remains undefeated at 3-0, outscoring opponents 74-20.
The Cowboys are No. 6 in the AP rankings and have an opportunity to knock off No. 17 Iowa State this week. If they can run the table, there could be some love for Oklahoma State to make the College Football Playoff.
Miami +15000 to +8000
One week removed from being in the notable fallers section after Week 6, the Hurricanes' odds shot back up to +8000 after their 31-19 win over Pitt. Of course, Miami faces an uphill battle to even make the College Football Playoff after losing at Clemson in Week 6, but if the Hurricanes can run the table, they could have four wins over ranked opponents.
Perhaps the odds drop to +15000 was an overreaction by the sportsbooks and that's why they adjusted back to +8000. In three weeks, Miami begins a two-game road trip at No. 23 North Carolina State and No. 19 Virginia Tech – a couple of wins there would go a long way.
Notable Fallers After Week 7
Georgia +900 to +1400
Understandably, we see the Bulldogs in this section a week after falling to No. 2 Alabama for their first loss of the season, with a path to the College Football Playoff becoming murky at best. If the loss had been a narrow one, you could overlook it with the game played in Tuscaloosa, but a 17-point defeat with only one remaining ranked team on the schedule means Georgia is in trouble.
Notre Dame +4000 Remains The Same
The Fighting Irish's odds remained static at +4000 but I put them as a notable faller because they should have pounded Louisville and with No. 3 Georgia and No. 5 North Carolina losing, they could have distanced themselves. Alas now-No. 3 Notre Dame squeaked by the Cardinals 12-7.
I think there is value in Notre Dame especially because it hosts No. 1 Clemson in three weeks and a victory there would all but seal a CFP berth and perhaps eliminate the Tigers from contention. However, if the offense doesn't build some momentum over the next two weeks against Pitt and Georgia Tech, that Clemson game will have Irish fans stressing.
Pac-12 Commits To Shortened Season
After the Big Ten announced it was reversing its stance on the cancellation of its football season, the Pac-12 was the lone Power 5 conference that was holding out.
Well, on September 24, the conference announced it would begin a shortened seven-game season on November 6. This is welcome news for Oregon, which is likely to be the Pac-12 favorite and could become the first Pac-12 team since 2017 to make a College Football Playoff appearance.
The Ducks have the shortest – albeit quite long – odds among Pac-12 teams to win the national championship (+10000). The Ducks sit 12th in the AP rankings, but they will be playing a shortened six-game season, which I don't think will be enough to earn a CFP spot even if they run the table.
---
What is a Futures Bet for NCAA Football Teams?
When it comes to big events for any sport, you can bet months in advance. In this case, a futures bet is a wager made on which team will win the national championship. Each week, oddsmakers will update the odds to reflect how a squad is doing. If a team is plagued with injuries, their chances of making it to the NCAA football final game slim down. A surging squad will see their odds skyrocket.
Understanding College Football Championship Odds
When you go to a college football sportsbook, you'll see the betting lines laid out like this:
Unlike a traditional straight-up bet where there's a clear favorite marked by the minus sign (-), 'Bama is the fave since they have the lowest odds. The rest are considered underdogs.
If you believe that LSU has the greatest odds of winning the championship, and you bet $50 on them, you'd get a payout of $275 – your original $50 is returned along with your winnings of $225. On the other hand, if you're looking at Georgia and think they're going to turn it around and win it all, that same $50 would give you $750 – you get your $50 back, plus your prize of $700. Our odds calculating tool will show you how much you'd win based on the odds and amount bet.
When you see futures odds that you like, it's best to jump on them early. As mentioned above, betting sites will adjust the odds as we get closer to bowl season and teams move up and down in the standings.