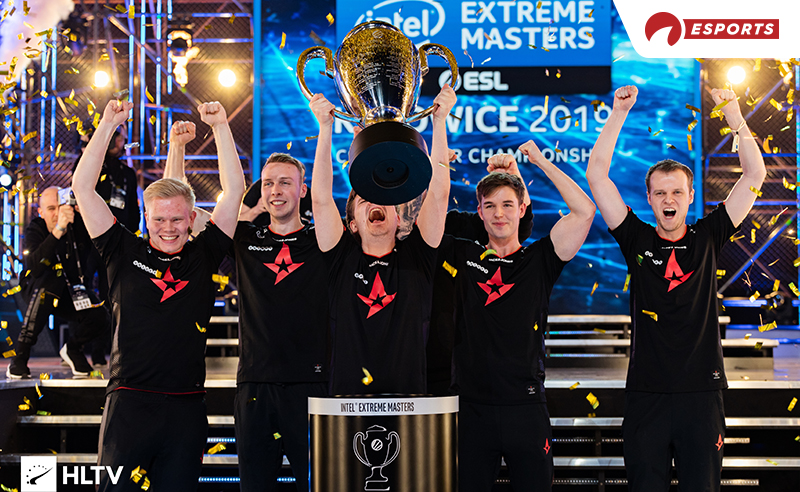 One of the biggest events of the Counter-Strike calendar is starting to appear on the horizon, as we close in on IEM Katowice, which kicks off on February 18.
The legendary IEM Katowice event has been a staple in Counter-Strike since 2014 and always brings some of the best competitive action of the year. We can certainly expect that to be the case in 2021, with amazing games and a wide selection of thrilling wagers throughout.
Who's Playing at IEM Katowice 2021?
Considering the event is still some way away, the full list of participants is yet to be confirmed. However, we do already know eight of the teams coming to Katowice, and it's a beautiful list.
We'll see the best of the best in Astralis, Vitality, and Natus Vincere headlining the event. They're, so far, joined by Heroic, Furia, G2 Esports, FaZe Clan, and Evil Geniuses. The remainder of the team list will be decided at the IEM Katowice Play In, which is played from Feb 16 to Feb 17, with the top eight teams qualifying.
The participants at the Play-In include the remaining big dogs like Big, OG, Liquid, and Fnatic, as well as many well known European and American sides. Overall, 16 teams will be battling out at the Play In.
When it comes to the main event, we'll see two groups of eight played in a double-elimination format, with a slight difference that three teams from each group will advance to the playoffs. Meanwhile, the final playoffs will be played in a single-elimination format, meaning a team will have to win all their games to win it all.
Odds to Win IEM Katowice 2021

| Team | Odds |
| --- | --- |
| Astralis | +225 |
| Vitality | +300 |
| Heroic | +450 |
| Natus Vincere | +500 |
| Big | +900 |
| Furia | +900 |
| G2 Esports | +1400 |
| OG | +1600 |
| FaZe Clan | +2000 |
| Mousesports | +2000 |
| Mousesports | +2000 |
| Complexity | +2500 |
| Evil Geniuses | +2500 |
| Fnatic | +2500 |
| Gambit | +3300 |
| Team Liquid | +3300 |
| Virtus.pro | +3300 |
| Team Spirit | +5000 |
| Cloud9 | +6600 |
| Renegades | +7500 |
| Boom | +10000 |
| Tyloo | +15000 |
| EPEC Winter Winner | +20000 |
| Illuminar | +25000 |
| Chaos | +30000 |
Odds as of January 12 at Bodog
Na'Vi Look To Reclaim IEM Katowice Trophy
Na'Vi enter IEM Katowice as the reigning champions and will no doubt be looking to hold on to their trophy in 2021. They enter the year third in the HLTV world rankings and seem to have begun figuring things out in late 2020, as they finished six events in at least fourth at the end of the year.
Going into the event, all eyes will no doubt be on superstar S1mple, who's incredible gameplay and consistency has been a key factor in Na`Vi's performances.
If S1mple can put up his usual incredible performances during the tournament and his teammates don't fall too far behind, then there's no reason that Natus Vincere couldn't secure an early trophy in 2021.
What Can We Expect From NiKo's G2?
Another team with a superstar to watch is G2 Esports, who secured the signature of NiKo from FaZe Clan in late 2020. The team has a great premise, as they were already challenging for trophies before NiKo's arrival and, as one of the best players in the world, he is a definite upgrade.
However, the squad hasn't shown much yet, likely due to a limited amount of practice and time for the team to gel. Luckily, the lengthy player break has given them just that, and there's a very good chance G2 may be a force to be reckoned with.
It all depends on how the team looks in their first few games of 2021, but they may be somewhat of a dark horse coming into IEM Katowice.
Do Any Of The Play In Teams Stand A Chance?
The quality of teams in the IEM Katowice Play In is actually incredibly high and it's very possible some teams do go deep in the tournament, or maybe even win it all. Big are the obvious favorite to do just that, currently ranking fourth on the HLTV world ranking and being no strangers to securing trophies and premium events.
There are also other impressive squads in the Play-In, like OG, Liquid, Mouseports, and Virtus.pro. All of these teams have performed at the top level before and while it is unlikely they do win the main event, they should be making it there and have a good shot at causing an upset.
Even Cloud9's new roster or Renegades, who haven't played outside of Oceania for almost a year, have a very real possibility of making something happen thanks to their unknown element. There's a real good batch of teams in the Play-In, and they may just be worth taking a punt on.