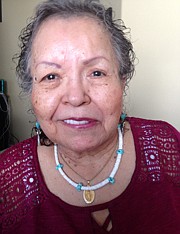 Germaine Lowley Parr, 79, was born July 15, 1941, near Tensed, Idaho, to Geneva Bonamache and Ray Lowley Sr.
She was preceded in death by her parents; brother, Ronnie Lozeau; sister, Arlee Jean Lowley; Joe Lowley; Connie Arthur and Raeann Thompson; children, Vincent Wilson, Clifford Wilson, Annette Wilson, Nancy Wilson and Katarina Sepulveda; her first husband, Richard "Turk" Wilson and her third husband, William "Tooks" Parr.
Germaine married Richard Wilson three months after she left the mission boarding school in Desmet, Idaho. They were married for 10 years and had five children: Vincent, Teresa, Clifford, Annette and Nancy. They then parted.
She worked and stayed with her family.
She met Raymundo Sepulveda Sr. and together they had four children: Stephanie, Herminia, Katarina and Raymundo Sepulveda Jr. They were married for 12 years.
She worked as a CNA in Fairfield, Wash., for approximately 10 years. It was hard work but she enjoyed it. Germaine encouraged her children to get an education from an early age.
She loved her grandchildren and playing bingo. You would find her at bingo, with pictures of all her grandchildren on her bingo bag.
She married again to William "Tooks" Parr, with whom she remained until his death.
A funeral Mass for Germaine will be held at 10 a.m. today, Wednesday, Dec. 23, 2020, at the Worley Long House, 160 Mitch Michael Lane, Worley, ID 83876. A graveside service will follow at the St. Michaels Cemetery, 10649 W. Rolling Hills Road., Worley, ID 83876.
Yates Funeral Home has been entrusted with final arrangements. Please visit Germaine's online memorial and sign her guest book at www.yatesfuneralhomes.com.