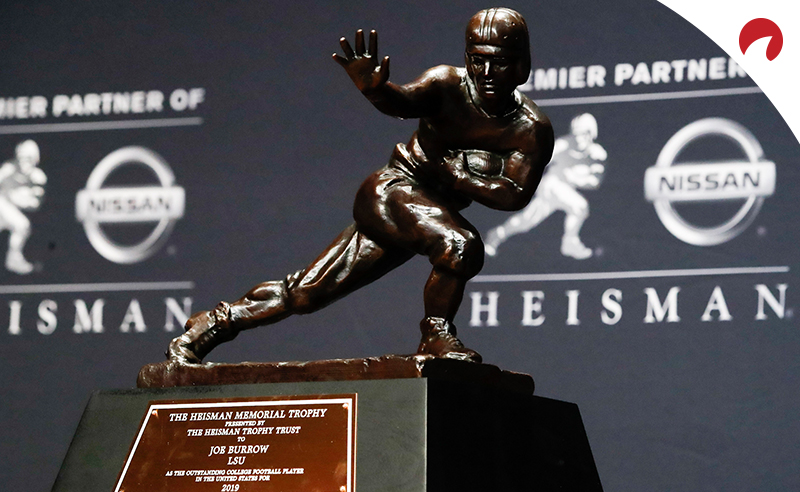 One week after Alabama QB Mac Jones leapfrogged Clemson QB Trevor Lawrence, Ohio State QB Justin Fields has climbed over Jones to become the new favorite in Heisman Trophy odds.
With just five weeks remaining in the regular season, it's an open field at the top of the Heisman Trophy odds list in a race that really could come down to the final games of the year.
Online sportsbook Bovada has listed Justin Fields as the new favorite at +125. He's followed by Mac Jones at +150, Trevor Lawrence at +450, Kyle Trask at +600 and D'Eriq King at +2200 to round out the top five on the oddsboard.
See Odds Shark's Best NCAAF Sites
Heisman Trophy Betting Odds
| Player | Odds |
| --- | --- |
| Justin Fields (Ohio State) | +125 |
| Mac Jones (Alabama) | +150 |
| Trevor Lawrence (Clemson) | +450 |
| Kyle Trask (Florida) | +600 |
| D'Eriq King (Miami) | +2200 |
| Zach Wilson (BYU) | +2200 |
| DeVonta Smith (Alabama) | +2500 |
| Ian Book (Notre Dame) | +2500 |
| Najee Harris (Alabama) | +3300 |
| Kellen Mond (Texas A&M) | +10000 |
| Sam Ehlinger (Texas) | +10000 |
| Spencer Rattler (Oklahoma) | +10000 |
| Travis Etienne (Clemson) | +10000 |
Odds as of November 10 at BetOnline
New to betting on college football? Be sure to take a look at our CFB betting guide to help you get in the action. Also, keep an eye on our college football odds page for the latest up-to-date betting lines.
Does The Shortened Season Matter For Fields?
Ohio State signal-caller Justin Fields had a strong 2019 campaign that saw him complete 67.2 percent of his 354 pass attempts with a remarkable 41:3 touchdown-to-interception ratio – two of those picks came in a narrow 29-23 loss to Clemson in the CFP semifinal.
It doesn't appear, from an odds perspective at least, that a shortened Big Ten campaign will hinder Fields' chances of winning the coveted trophy. Through three games, the junior QB has been outstanding, completing 86.7 percent of his passes for 908 yards, 11 touchdowns and no interceptions.
The Buckeyes knocked off then-No. 18 Penn State in their second game and have No. 10 Indiana in two weeks' time as the only ranked opponents on their slate. If Ohio State runs the table, and it certainly looks like it will, there's no reason to think that Fields won't be the favorite ahead of the Heisman Trophy awards ceremony on December 12.
Mac Jones Slips To No. 2
After climbing to the top spot on the oddsboard, Mac Jones is now behind Justin Fields following a week in which Alabama was on a bye and Fields threw for 314 yards with five touchdowns vs Rutgers.
Heading into the season, Jones' Heisman Trophy odds were +2500 and they are now +150. Of course, an Alabama QB is going to get some love in the Heisman Trophy odds because the team has a good chance to go undefeated year in and year out and more recently the Tide have transitioned from being only a defensive powerhouse to racking up the points as well.
He would be the first Alabama QB to win the coveted trophy and his stats are proving him worthy. Jones has completed 78.5 percent of his 177 pass attempts for 2,196 yards with 16 touchdowns and two interceptions. He also shredded Georgia, possibly the best defense in college football, for 417 yards with four touchdowns and a pick.
Did Coronavirus End Lawrence's Heisman Hopes?
Clemson QB Trevor Lawrence has just one loss on his college record, leading the squad to a national championship in his true freshman season and falling in the national title game in 2020.
I had said the only thing that might hurt Lawrence's chances to win the Heisman Trophy was playing in the ACC, which isn't exactly a powerhouse conference. Well, I didn't consider the coronavirus – Lawrence tested positive for COVID-19 ahead of Clemson's Week 9 matchup vs Boston College.
The QB missed that game and more recently Clemson's 47-40 double-overtime loss to Notre Dame last week. The last Heisman winner to miss a game was Charlie Ward in 1993 and the last to miss multiple games was Charles White in 1979.
Prior to his illness, Lawrence showed why he is the projected No. 1 pick in the 2021 NFL Draft. The junior quarterback completed 70.7 percent of his 191 pass attempts with an average of 9.6 yards per completion while tossing 17 touchdown passes to just two interceptions in six decisive victories.
Perhaps Lawrence still has some value, if we assume the voters will overlook the missed games due to the coronavirus and still give the award to him. But I'm not sure they will.
Heisman Trophy Historical Odds
By now, everyone is aware that LSU Tigers quarterback Joe Burrow won the Heisman Trophy in 2019 and was selected first overall by the Cincinnati Bengals in the NFL draft. But did you know his odds to win the award prior to the start of the season were +4000?
That's the best part of betting on this prop. Players can be huge underdogs before the season starts and emerge from nowhere to take the spotlight. At some sportsbooks, Burrow wasn't even listed as a Heisman candidate until after LSU's second game.
Here at Odds Shark, we have compiled the opening and closing odds for every Heisman winner dating back to 2009, when Alabama's Mark Ingram took home the hardware. These odds are courtesy of sportsoddshistory.com.
Here are the opening/closing betting odds along with the preseason favorite for the Heisman Trophy since 2009:
Heisman Trophy Odds History

| Year | Winner | Preseason Odds | Closing Odds | Preseason Favorite (Odds) |
| --- | --- | --- | --- | --- |
| 2019 | Joe Burrow | +4000 | -12500 | Tua Tagovailoa (+250) |
| 2018 | Kyler Murray | +3000 | +700 | Tua Tagovailoa (+400) |
| 2017 | Baker Mayfield | +700 | -1800 | Sam Darnold (+500) |
| 2016 | Lamar Jackson | +10000 | -1350 | Deshaun Watson (+450) |
| 2015 | Derrick Henry | +2500 | -465 | Trevone Boykin (+650) |
| 2014 | Marcus Mariota | +425 | -1500 | Marcus Mariota (+425) |
| 2013 | Jameis Winston | +600 | -15000 | Teddy Bridgewater (+450) |
| 2012 | Johnny Manziel | N/A | -1000 | Matt Barkley (+300) |
| 2011 | Robert Griffin III | +2800 | -1000 | Andrew Luck (+325) |
| 2010 | Cam Newton | N/A | -450 | Mark Ingram (+450) |
| 2009 | Mark Ingram | N/A | -250 | Tim Tebow (+225) |
---
Making a Futures Bet
A futures bet is a wager made on events or milestones that will happen in time. The Heisman bet is a form of futures betting because you are making a pick based on an outcome determined at the end of NCAA football season. The trophy is given out in mid-December and if you want to get a bigger payout, it's best to lock in your bets sooner rather than later so you can take advantage of better odds. The closer it gets to Heisman voting, the more the odds will change.
How to Read Heisman Trophy Odds
The above chart features the odds for each top player in college football. At your sportsbook of choice, the betting lines would look something like this:
Trevor Lawrence +275
Justin Fields +400
Bo Nix +2600
This means that Lawrence is the favorite since he has the lowest odds and the highest chance of winning the prop, according to oddsmakers. If you were to bet $100 on Lawrence and he won, you would get a payout of $375 – your original $100 is returned along with your winnings of $275.
On the other hand, if you strongly believe that Bo Nix is going to outdo himself at Auburn and give the performance of a lifetime, a winning $100 bet on him would yield $2,700 – your $100 comes back along with your prize of $2,600.
Our Odds Calculator will show you how much you'd win based on the odds and amount bet.
Handicapping Your Heisman Bet
We have the goods to ensure that you can make smart picks. Check out our college football pages to give you the edge over other bettors:
• Odds
• Futures
• Free Picks
• Consensus
• Scores
• ATS Standings
• Offensive Stats
• Defensive Stats
• Game Logs
• Betting Trends
• Power Rankings
• Betting Tutorial