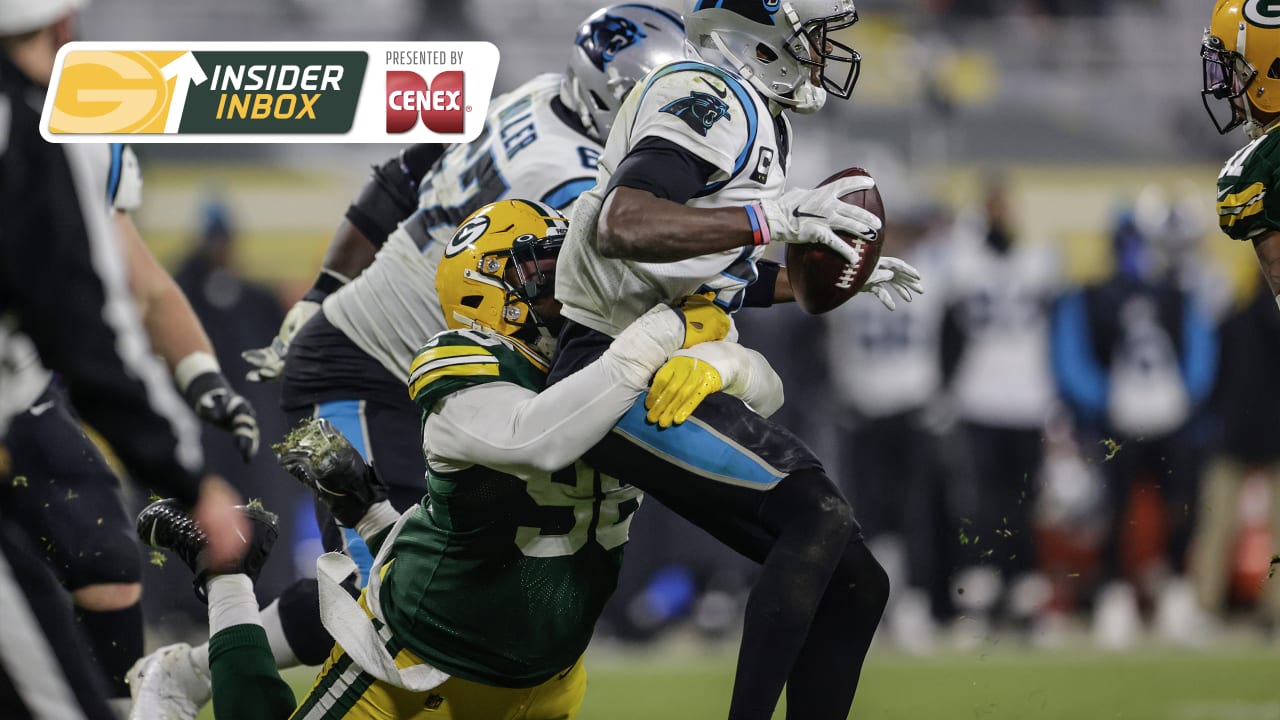 Yet again, Mr. Crosby, take a bow!
They keep making it harder on him than it has to be, too. Last week it was the false start losing five yards. This week it's first down from the 29 with five minutes left and they throw it three times, losing eight yards on a third-down sack. It's huge when your kicker can cover for other blunders.
David from Minneapolis, MN
I felt bad about our win over a weak foe. Then Indy barely beat a four-win team, the Seahawks almost lost to the WFT, the Bucs almost got beat by the Falcons, the Rams lost to an 0-13 team. Week-to-week league indeed. Also, as an anesthesiologist taking care of COVID patients I get my vaccine tomorrow. Stay safe and be smart. There is a light at the end of the tunnel but we still have to keep walking the tunnel. Be smart. Be kind. Stay safe.
Jeff from Black River Falls, WI
Haven't seen this asked yet, so I was wondering if the NFL has tried to get COVID shots for the players as a priority status?
No. The league said it would not "jump the line" based on how priorities are established.
Tiebreaker scenarios are so confusing. The Jets and Jaguars have one win each and the Jaguars supposedly own the tiebreaker for the top pick in the draft. How can this be the case if they have a better conference record (one win!) than the Jets? I thought conference records played a significant role in tiebreakers.
Not for draft order. The tiebreaker for draft order is the combined winning percentage of opponents. That's it. Whoever's is lower gets the better draft pick.
How can the Packers stop Derrick Henry from taking over the game?
Get multiple tacklers to the ball. Trying to tackle him one-on-one in space is a losing proposition.
What in the blue blazes does a team need to do to stop Derrick Henry? The dude just keeps pounding and pounding. I sure hope no Packer defender gets posterized by one of his stiff arms Sunday night!
See above. It's hard for him to stiff arm a guy if other guys are right there, too. But if anyone can stiff arm more than one guy at a time, it's probably Henry.
Anthony from Sturgeon Bay, WI
Just want to dish out a northwoods YOWZA to Mike for totally personalizing games with his live blog. The ability to spontaneously interact whether being chosen or not offers a new level of game enjoyment. Let's face it, Mr. Spoff is a blogging machine!
We didn't quite set an audience record Saturday night, but the participation was robust and lively.
Cliff from Alexandria, VA
Insiders: Why do trailing teams kick off at the end of games and try to make a defensive stand? (Saints game, for example.) If your hopes rely on a defensive stop why not try the onside kick, and even if you don't get it, try for your defensive stop then? Seems like the yards are less valuable than the chance at getting the ball back outright.
That's one school of thought. The other is that onside kicks are such low-chance propositions now that the 25-30 yards of field position is worth more. It turned out in the Panthers' case they cost themselves 20-plus yards with the penalty on the punt return.
Michael from Portland, OR
Were you as surprised as I was that Carolina didn't take a couple shots at the end on first down at the GB 15? Was the reasoning if they took too much time off the clock they'd have to then try an onside kick?
Exactly. I thought it was smart strategy, dictated by having only one timeout left and preferring/needing to use the two-minute warning on defense. I talked a lot last year about coaches having to rethink end-of-game comebacks because of the kickoff rules. Carolina burning that first timeout early in the fourth quarter proved big.
I was listening on radio, so I didn't see the touchback with 2:04 to play. Any chance we could have run that back from deep in the end zone, even if only to the 10-yard line, so that the two-minute warning would expire on the kickoff instead of the first play from scrimmage? If so, Carolina's final drive would have started with around 10 seconds.
I wondered the same thing at the time. The kick was really deep but perhaps could have been caught in front of the end line. Maybe the Packers would have taken that approach if Williams had still been back there, I don't know. I would have sold my soul to kill those four seconds, field position be damned in that case.
Talking about replacing a preseason game with an additional wild-card game on Friday, II stated "those two extra wild-card playoff games will mean way more money to the league than one week of preseason action." Wait, what? Really? Two playoff games would rake more than 16 preseason games? I get they are preseason but…surely this can't be true.
I'm not privy to exact numbers, but nationally televised NFL games with an exclusive audience – which playoff games are because there are no other games going on simultaneously – make the league a boatload of money in TV rights. They're monstrously profitable before a single ticket is sold. Preseason-game revenue is based on cheap tickets (not all of which are sold), lots of no-shows (so less concession and other ancillary income than usual), virtually no TV money, minus all the expenses of conducting the game. Are two playoff games worth more than 16 preseason games? My guess is yes.