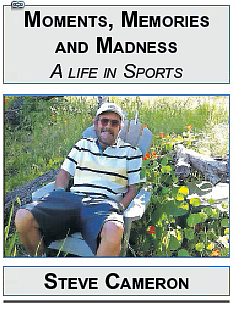 If I were a betting man…
Wait!
I AM a betting man.
In fact, even though the Belmont Stakes on Saturday wasn't really the true Belmont — it was the opening leg of horse racing's Triple Crown instead of the finale, and it was contested over 1 1/8 miles instead of the Belmont's traditional (and brutal) mile and a half — I managed to make a modest investment in the event.
It's not as though gambling is quite as taboo as it might have been in other eras, at least in America.
But times are a changin'…
We have casinos within easy driving distance in at least three directions from Kootenai County — not to mention Greyhound Park in Post Falls, where you can bet on simulcast horse and greyhound racing.
What's more, the state of Washington has legalized sports betting (which may even find its way to Idaho), so I'm not going out on any legal limb here.
Given this kind of savvy about betting, which goes all the way back to childhood and a proper street education from my dad, you'd think I could avoid getting arrested for what is termed "commercial gambling."
YOU CAN go to jail for this sort of offense, but I managed to avoid spending a minute behind bars.
For one thing, there was absolutely no crime involved. Even more important, I'm white.
I did get a story out of it, though.
So did the television stations in Albuquerque.
Let me explain…
The excitement started on a midday evening, when I was having a couple of beers with friends at a well-known lounge.
At 6 o'clock, almost on the dot, the beginning "tease" for the nightly news popped up on the TV screen right near us.
I'll have to paraphrase here, since I wasn't exactly taking notes…
"Police have announced the break-up of a widespread betting ring in the city," said the announcer. "The first big-name arrest is Albuquerque Tribune columnist Steve Cameron.
"We'll have the full story in just a minute."
OK, I clearly hadn't been arrested, since I was sitting there in the pub — grabbing peanuts from a bowl on the table.
I probably had some profound reaction, like…
"WHAAAT?"
YES, THE story was true.
Sort of.
A sergeant from the APD called me the next day, told me they had a warrant for my arrest — but since I probably didn't want the embarrassment, I could just drive down and turn myself in, rather than see officers having a bake sale outside my apartment building.
Now I was angry.
"Avoid the embarrassment?" I said. "You mean, after you gave my name to the TV stations?"
You also have to understand a couple more things that were involved here.
First of all, Albuquerque had a betting and gambling culture which predated me (this was in the 1980s) by decades.
There was live horse racing in the city, and also up the highway in Santa Fe.
Second, the police department loved arresting people with names the public might know.
Generally, the victims were state legislators and their various buddies, as when an entire platoon of armed cops stormed into a hotel dining room to nab a state senator who had been enjoying the same noontime dice game every day, for…
Forever, maybe?
The city administration never seemed to understand that bets on a couple of football games — or some two-dollar rolls of the dice — meant absolute nada to the yawning public.
AS FOR me, I was duly booked after showing up voluntarily the day after that nightly news episode.
The sergeant who had phoned me immediately made it clear that their warrant was nonsense.
"We just want some of the guys who are taking big-money bets," he said, "and you're a fixture at Ned's (the city's most popular lunch spot), so you know who they are.
"We need names."
To be honest here, I did know SOME names — since one of them was my neighbor — but I wasn't about to start yakking just to please the Albuquerque Police Department.
Ironically, I had plenty of friends in the APD, too. Some of them were regular bettors on sports events, which I doubt the department wanted to hear.
So, I basically said: "Do your worst. I'm not a bookie and never have been, so you can't have any proof that I am.
"When you get tired of this, I'd like to go home."
YES, WE can find a serious point to this silly story from 30-plus years ago.
Even though I was completely innocent of the charges the whole city heard from the APD, it was still a little bit scary.
Even as I took a "Who cares?" attitude while being questioned, I wondered if the police perhaps had "invented" some supposedly incriminating betting slips to hold over me.
I had written about that crazy bust on the state senator, so while I might have had friends in the APD, people at the top probably didn't like me.
Honestly, I wondered how fairly I would be treated as their "media celebrity" captive.
(Side note: They made me far better known in the whole state of New Mexico that I ever could have managed on my own.)
In today's climate, with a spotlight on police treatment of minorities, I need to tell you that I was a bit frightened when it was me on the receiving end.
If my skin had been a different color…
Frightening.
AT THE newspaper, we had routinely reported on multiple instances of police officers behaving poorly toward minorities.
We'd written often about it and, to tell the truth, that probably contributed to my arrest.
That experience, even though no one ever laid a hand on me, was very, VERY unsettling.
The APD could have had me for breakfast, whether I'd done anything wrong or not.
And I knew it.
What likely saved me was being a white boy columnist with a voice in the city.
Bottom line: Being at the mercy of law enforcement when they don't like you is not a joyous occasion.
Even that silly episode involving my arrest, which was over in less than 24 hours and came with an apology, has stuck with me all these years.
I always think: What if I were Black in that same situation?
Trust me, that feeling of being totally powerless in the hands of The Man will never leave my mind.
Never.
What does that tell you about daily life for minorities in America?
Email: [email protected]
Steve Cameron's "Cheap Seats" columns appear in The Press on Mondays, Wednesdays and Fridays. "Moments, Memories and Madness," his reminiscences from several decades as a sports journalist, runs each Sunday.
Steve also writes Zags Tracker, a commentary on Gonzaga basketball, once per month during the offseason.