In yet another arbitrary rule change by the Big Ten Conference eschewing players' long-term health and safety to field teams, the conference rolled back its 21-day mandatory sit-out policy for players who've tested positive for COVID-19.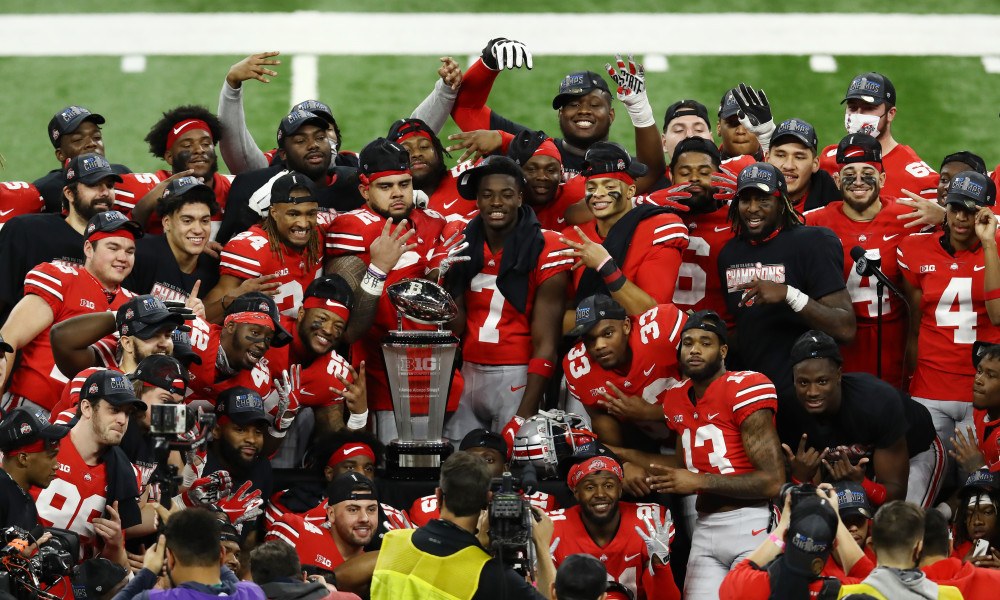 Players are now only required to miss a minimum of 17 days, which, consequently, makes many eligibles once more for the No. 3 Ohio State's Sugar Bowl College Football Playoff (CFP) semifinal match vs. No. 2 Clemson at in New Orleans 8 p.m. EST Jan. 1. Clemson opened as 6.5-point favorites.
Conference's New COVID-19 Protocol Starts Monday
The Big Ten's medical subcommittee approved the changes Wednesday, and the new protocol goes into effect Monday.
Even with the shorter time off the field, conference officials said players who have tested positive for COVID-19 must still go through extensive cardiac testing, including a cardiac MRI, and receive clearance from team physicians before they can return to competition "any earlier than the 17th calendar day" after testing positive.
Cardiac screening for players includes "labs/biomarkers, ECG, echocardiogram, and a cardiac MRI," according to a document released by the Big Ten.
Big Ten Aware of COVID-Related Cardiac Issues in Players Since Before Start of Season
The conference has been aware of players potentially suffering short- and long-term cardiac side effects of the virus for months. In September, before the start of the Big Ten's truncated season, alarming data laid bare what Big Ten Commissioner Kevin Warren then cited as "too much medical uncertainty and too many unknown health risks" for postponing the conference's fall sports season.
During a State College Area school board of directors meeting on Monday night, Penn State's director of athletic medicine Wayne Sebastianelli made some early connections between COVID-19 and myocarditis. Sebastianelli said that cardiac MRI scans revealed that approximately one-third of Big Ten athletes who tested positive for COVID-19 appeared to have myocarditis, an inflammation of the heart muscle that can be fatal.
"We really just don't know what to do with it right now," Sebastianelli said.
While the long-term side effects of the virus on an individuals' heart health are still unknown, there have been several incidents this season of myocarditis sidelining or even hospitalizing college athletes.
Long-Term Prognosis For Players With Myocarditis Yet to be Defined
Earlier this month, Miami defensive back Al Blades Jr. was advised to sit out the remainder of the season after being diagnosed with myocarditis following his bout with COVID-19. And last week, Florida Gators' star forward Keyontae Johnson was hospitalized after collapsing on the court following a time out during a game against Florida State. Johnson, who had COVID-19 earlier this fall, released this message from the hospital:
"Write your own story" God said my work here ain't done ??? pic.twitter.com/hJHlBIJmdg

— Keyontae (@Keyontae) December 18, 2020
Even with the protocol roll-backs, the prospect of putting players further at-risk was too much for some bowl-eligible Big Ten programs as Minnesota, Nebraska, and Michigan St. declined bids Sunday.
Indiana Jobbed Out of New Year's Six, COVID-Afflicted Program to Appear in Outback Bowl
No. 11 Indiana (6-1) were snubbed out of a New Year's Six Bowl Sunday and are set to face 4-5 Ole Miss in the Outback Bowl on Jan. 2 at Raymond James Stadium in Tampa. Indiana opened as 7.5-point favorites.
The Hoosiers haven't played in two weeks due to COVID-19, but head coach Tom Allen said last week they plan to return to finish their season in Florida.
Number of Ohio State Players Out for New Year's Day an Unknown
As for Ohio State, they will play on New Year's Day. Although it is still unclear how many players will be cleared to go against the Tigers even with new restriction rules in place. Players affected include the Buckeyes' top receiver Chris Olave and second-leading tackler Baron Browning.
Under the conference rules, the team does not have to specify why players miss games, although starting punter Drue Chrisman confirmed on Twitter last week he had tested positive for COVID-19. Several told ESPN off the record positive COVID-19 tests among Buckeyes players and staff have risen over the last week.