I picked up a vintage
Blackjack
"Woodsman" model knife without a sheath. If your not familiar with the knife it is a 4″ carbon steel dropped point blade. I've read that it is 51200 steel but ? really. The blade has a gentle convex grind and takes a very sharp edge. Black linen micarta handle, brass hilt and Dura-aluminum pommel with lanyard hole.
Blackjack
made some top tier knives while it was in business in Effingham. They were second to none and are now collectable and getting hard to find. Not sure but I think someone is making the brand again.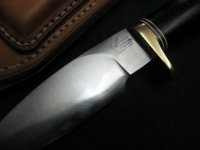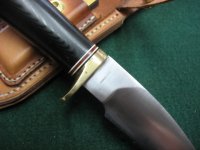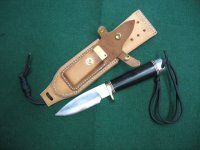 I started the project by first making a mold for the Fallkniven DC3 sharpening stone. I made it from black paper micarta slab and leather. I wetted the leather, placed it into a vise a formed the pouch quick and easy.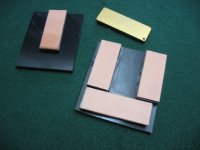 The rest of the project was not so quick and easy. Three different weights of leather was used. Each piece was laid out. Every hole was measured and drilled out with a Dremel tool progressively with 3 different sized bits. The pieces with the stitching holes had to line up perfectly to each other to maintain even stitching. If the holes didn't line up, hand stitching is an absolute nightmare.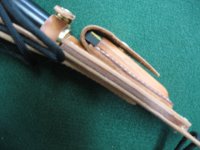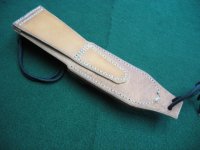 I'll need to apply a few more applications of Dr. Johnson's leather salve to get the coloring I want.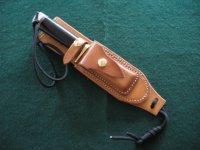 The Randall "C" style sheath is a favorite sheath for many. I think Randall developed it during the Vietnam war. It is a higher quality than the issue Jet pilot "bolt knife" sheath. No one makes it for a 4″ blade that to my knowledge and is why I had to make my own. It took 4 days to do so but what else is old guy in mid his mid 70's to do while waiting out the pandemic?
'drif