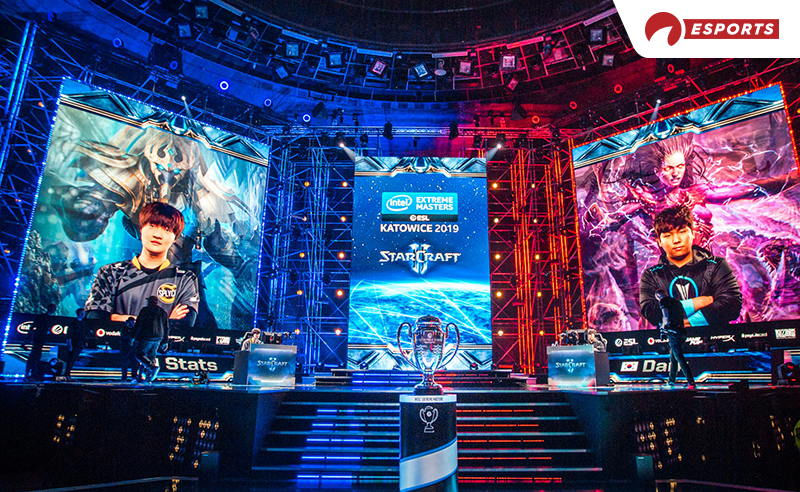 Starcraft 2's world championship event, IEM Katowice, is fast approaching and we're set to see 24 of the best SC2 players battle it out at the biggest event of the year.
IEM Katowice is a culmination of the whole 2020 competitive circuit, comprised mostly of players who have gathered the most circuit points from tournament results over the year. The event is one that players and fans have been looking forward to for a long time and will no doubt bring us some of the best Starcraft action to date.
Let's take a look at how the event works and who we can expect to see competing there.
Who's Playing at IEM Katowice SC2?
With 24 players competing, IEM Katowice is set to be one of the largest events of the year and will feature just about every elite-level player. The highest representation, unsurprisingly, comes from Korea, with 11 Korean players attending, including the likes of Rogue, Dark, Maru, Zest and many more legendary names.
The western world combines for eight players total, including European favorites Reynor and Serral, as well as Neeb and Special from the Americas. We also see one representative from China in Time, and four more slots are open to last-chance qualifiers who just missed out on the main event slots in the circuit point rankings.
As for the event itself, players will be split into four groups of six, and 12 will advance to a single-elimination playoff that will decide the eventual champion. The stakes are higher than ever and you can count on every match being worth keeping an eye on.
Odds to Win IEM Katowice Starcraft 2

| Player | Odds |
| --- | --- |
| Serral | +275 |
| Trap | +350 |
| Dark | +375 |
| ByuN | +375 |
| Maru | +550 |
| Reynor | +650 |
| Rogue | +900 |
| Stats | +1000 |
| Clem | +1100 |
| INnoVation | +1100 |
| Zest | +1400 |
| TY | +1400 |
| Cure | +2500 |
| Solar | +2500 |
| PartinG | +3300 |
| ShoWTimE | +6600 |
| Neeb | +7500 |
| Time | +7500 |
| HeRoMaRinE | +10000 |
| SpeCial | +15000 |
| Hurricane | +25000 |
| sOs | +25000 |
| Bunny | +25000 |
| Dream | +25000 |
| Armani | +25000 |
| DongRaeGu | +25000 |
| RagnaroK | +25000 |
| Elazer | +25000 |
| Astrea | +50000 |
| uThermal | +50000 |
| Scarlett | +100000 |
| Has | +100000 |
| Nice | +100000 |
| Kelazhur | +100000 |
| Cyan | +100000 |
Odds as of February 16 at Bodog
Can European Hopes Reynor and Serral Strike Back?
Starcraft 2 has seen some crazy changes in the last few years. After being dominated by Korean players since the game's release, westerners finally struck back in 2018, with Serral rising to the top and winning just about every major event that year.
In 2019, it was Reynor's time to strike, as he rose to the top and won a fair share of big events. Since then, the two have been leading the charge against Korean competition, although 2020 shifted things back into Korean favor.
Two of the last international events have been won by Koreans and now fans all around the world look to both Serral and Reynor to perform and win the biggest SC2 trophy for the west.
Rogue Looks to Defend His IEM Katowice Title
2020 was the year of Rogue. He was always one of the best, but he really staked a claim to be known as a legend last year. He won the all-important IEM Katowice trophy and then went on to take home the second season of the GSL, Korea's biggest Starcraft competition.
Since then, he's been flying under the radar. However, he has proved he has exactly what it takes to win this tournament and will no doubt be hungry not only to defend his title, but also to put an end to his trophy drought.
Which Region is Strongest in 2021?
Going back just a few years, this wouldn't even be a question – Korea has always been the top dog in Starcraft. However, with the rise of Reynor and Serral, Europe has definitely been thrown into the mix.
Considering results throughout 2020 and a lack of international events due to the coronavirus, the question about the best region is one that is up for debate. Of the just six international events in 2020, there were three Korean and three European winners. This puts us at a tie, but considering finalists and overall placements, Korea definitely takes an edge.
However, with Starcraft being a one-on-one game, all that really matters is the strength of individual players. Overall, I'd put Serral as the best in the world, but there are a handful of Korean players close enough to his level that they could defeat him.
As such, Korea earns the slightest lead over Europe. Serral could easily take the whole tournament, but the likes of Trap, Rogue and Maru do have what it takes to stop him, and with Europe having just one, Serral, while Korea has a few top competitors, the championship could go multiple ways.