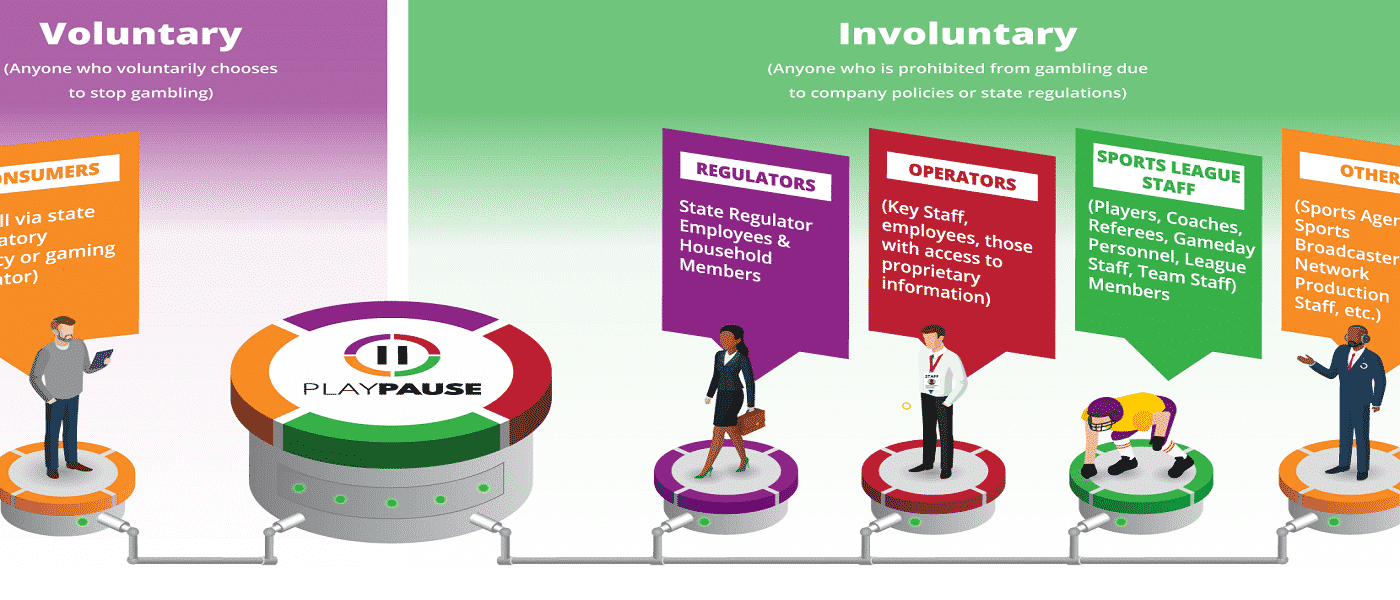 When the topic of prohibited bettors is broached on social media, it is usually in conjunction with sportsbooks banning winning/sharp players. Less often, the subject comes up during responsible gaming discussions in regards to self-exclusion. But there's also a third group of prohibited bettors, a group that rarely gets mentioned: a group called impermissible bettors.
Impermissible bettors are people who, for a myriad of reasons, are prohibited from betting. Easy examples of impermissible bettors are athletes, coaches, and referees. But that's only the tip of the iceberg. The list of prohibited bettors is quite long and more concerning, challenging to regulate and enforce.
And that's where Conscious Gaming and its PlayPause tool come in. As noted on its website, the philanthropic organization is "committed to utilizing advanced technology to propel social responsibility initiatives."
First deployed as a multi-state self-exclusion tool, Conscious Gaming later expanded PlayPause to help solve the impermissible bettors' conundrum.
Betting USA spoke to Seth Palansky, the Vice President, Corporate Social Responsibility & Communications at Conscious Gaming, to better understand the complexity of the problem and what Conscious Gaming is doing to resolve this issue.
Defining Impermissible Bettors
Before discussing resolutions, it's essential to define an impermissible bettor.
According to Palansky:
Impermissible Bettors is a term to describe any group of people forbidden from placing bets due to their employer's policy or rules or based on state-mandated regulations.

For sports leagues, impermissible bettors may include league employees, team employees, players, coaches, and referees.

For operators and regulators, this typically means their employees.

While "self-exclusion" describes consumers who choose to restrict their own gambling activity (voluntarily), "impermissible bettors" instead have their betting restricted due to their role at the place of employment (involuntarily).
The Reason to Prohibit Betting
With the definition in place, we can move on to the why of these prohibitions.
While there is a lot of overlap between state laws and regulations, there are also plenty of individual policies. This menagerie of rules and regulations makes enforcement quite tricky.
As Palansky points out, that complicates the all-important issue of integrity.
For sports leagues, their games' integrity is paramount, especially in a world where partnerships, sponsorships, equity stakes, and stadium/arena sportsbooks are in place or on the horizon. It is akin to Wall Street and SEC rules around insider trading. It is smart policy to remove the temptation of any insider to trade on that knowledge.

For state regulators, there is obviously a conflict of interest that arises when they are the entity in charge of overseeing the industry. It is important for anyone who is regulating this activity not to place bets. This is widely acknowledged and understood.

The ability to manage the implementation and enforcement of these rules is where friction exists. With the PlayPause technology and service, there now is an easy way to ensure operators can block any attempts that may occur from any impermissible bettor.
The Hurdles of Policing Impermissible Bettors
As mentioned, the hodgepodge of rules and regulations hampers enforcement efforts, at least as it exists in the status quo.
As Palansky notes:
There are numerous hurdles, but PlayPause solves for all of them. So, the only true hurdle that exists now is the need to do a technical integration to make use of PlayPause.

But the hurdles prior to PlayPause were several. Data privacy is a critical consideration for gaming operators and regulators, particularly in light of recent and projected legislative and regulatory developments across the states.

PlayPause was built with data privacy as a guiding principle. PlayPause facilitates the de-identfication of consumers: removing or manipulating all direct and known indirect identifiers to break the leakage to real-world identifiers. As a result, the solution does not involve any sharing of personally identifiable information (PII) with Conscious Gaming.

This means gaming operators, sports leagues, and regulators control and manage their databases like they always have. They just now share into the PlayPause national repository to expand the protective self-exclusion bubble so that as consumers move from state to state, the protection they asked for can also move with them.

The same for impermissible bettors, so they can be blocked from betting. For sports teams who travel and play road games, it is important that the blocking of bets isn't just confined to their home state.

The patchwork of rules that differ from state to state presents another challenge. As operators are required to conform to the regulations in the state they are operating in, they must set up procedures to manage to those specifics. This can mean operating in 20 different states requires keeping 20 different lists and mechanisms to compile and exchange data for those lists. It is unwieldy and burdensome, and prone to errors and omissions.

Bad data. Garbage in, garbage out. Are Jim Smith, Jimmy Smith, and James Smith the same person, or three different people? While studying other markets, it became clear the data set used to identify an individual created fuzzy logic and bad data in a lot of cases. The regulatory requirements associated with data collection during account creation ensure that US operators can generate a unique and de-identified player ID for each user, which can be leveraged on a nationwide basis.
The Big Takeaway
The big question is, will states and operators buy into PlayPause?
The answer appears to be yes.
Pennsylvania has already signed on to PlayPause. At the operator level, BetMGM is a PlayPause adoptee. But for PlayPause to work, it needs near-universal buy-in. Let's hope more state and operators follow their lead.