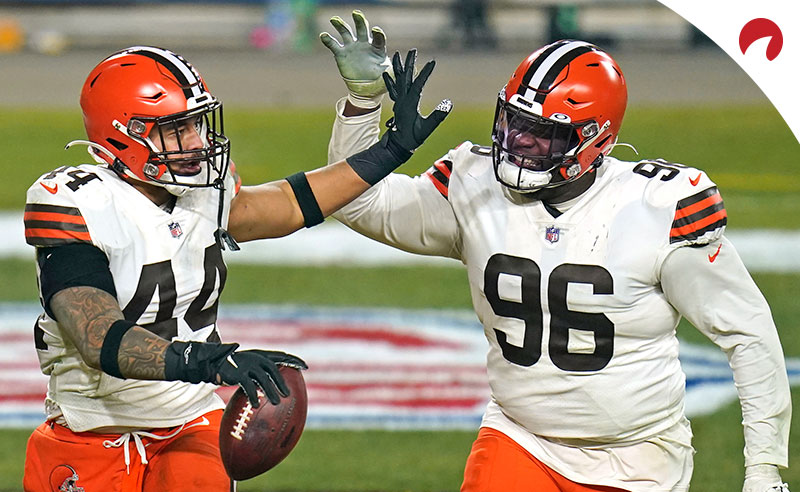 An action-packed Wild Card Weekend is in the books and eight teams remain in the hunt for the Lombardi Trophy ahead of the divisional round of the NFL playoffs.
Sportsbooks Say Chiefs Have Best Odds to Win the Super Bowl
When it comes to Super Bowl odds at the Best NFL Sites, the defending champion Kansas City Chiefs remain the +200 favorites to go back to back. The Green Bay Packers (+375), Buffalo Bills (+550), New Orleans Saints (+600), Tampa Bay Buccaneers (+650), Baltimore Ravens (+800), Los Angeles Rams (+2400) and Cleveland Browns (+3000) round out the list.
For more information on everything you need to know about wagering on the big game, head over to our Where to Bet on the Super Bowl page.
Odds for Each Team to Win the Super Bowl
Super Bowl 55 Odds

| Team | Current Odds | Season-Opening Odds |
| --- | --- | --- |
| Kansas City Chiefs | +200 | +650 |
| Green Bay Packers | +375 | +2200 |
| Buffalo Bills | +550 | +2500 |
| New Orleans Saints | +600 | +1000 |
| Tampa Bay Buccaneers | +650 | +1200 |
| Baltimore Ravens | +800 | +650 |
| Los Angeles Rams | +2400 | +3300 |
| Cleveland Browns | +3000 | +3300 |
Odds as of January 13 at Bovada
Underdog Rams Dispatch Seahawks
A super-sized Wild Card Weekend featuring an unprecedented six games led to a plethora of wagering opportunities for football bettors. For those looking for underdog value, the Browns and Rams came through in a big way.
Los Angeles, which entered its wild-card clash against the division-rival Seahawks as a +3 underdog, used a 20-point first half to take control early. Backup quarterback John Wolford initially started the game in place of the banged-up Jared Goff, but Wolford left after getting hurt in the first quarter, forcing Goff into action.
Goff's stats (9-for-19, 155 yards, 1 TD) weren't anything to write home about, but rookie running back Cam Akers dominated on the ground with 131 rushing yards and a score. The stout Rams defense kept Russell Wilson and the Seahawks in check from start to finish.
L.A. faces a tough road date this weekend against the top-seeded Packers. As of this writing, the Rams were sitting as 6.5-point underdogs for the affair.
Browns Drop 48 Points On Steelers in Pittsburgh
What a turn of events for Cleveland. The Browns, one of the most downtrodden franchises in professional sports, threw all prior records and narratives out the window in a 48-37 victory over the Steelers. Cleveland closed as a +5.5 underdog.
Everything that could've gone right for the Browns did in the first half. Playing without head coach Kevin Stefanski, who was placed on the reserve/COVID-19 list last week, Cleveland put up 35 points in the first half to lead the Steelers by 27 through two quarters.
Pittsburgh made things interesting in the third quarter but it was too little, too late for the Steelers. The black and gold didn't resemble the team that was undefeated through Week 11, as the once-feared defense struggled to contain Baker Mayfield and the rest of the Browns offense.
With a date against the Chiefs up next, the Browns have their work cut out for them in the divisional round. Bovada is offering the Browns as 10-point underdogs.
---
When it comes to betting on the NFL, odds are available before teams take their first regular-season snaps. You can even bet on a potential Super Bowl winner in August. Certain squads will always be contenders, especially if they won the previous year. When bookmakers set the lines, they look at offseason roster moves, coaching changes and past on-field performance. To bet on the odds for the Super Bowl, you'd make a futures bet.
What is a Futures Bet for NFL?
This is a bet in which you would look at the odds for the Super Bowl, weeks or sometimes months in advance of the big game, and decide which team you think will win. Let's say you want to make a futures bet today. At your sportsbook of choice, the odds might look something like this:
If this were a moneyline bet, you'd be able to see which team is the clear favorite because it would have a minus sign beside its odds (-). For futures, the team with the lowest odds is favored to win the Super Bowl and the rest are underdogs.
Let's say you feel strongly about the Saints and believe they're going to win it all. If you were to bet $100 on them and they did triumph, you'd get a payout of $650 – your original $100 is returned along with your winnings of $550. Our Odds Calculator will show you how much you'd win based on the odds and amount bet.
The odds change throughout the season as key players get injured, trades happen and coaches get fired. Line movements for NFL futures happen weekly, so if you see odds you like, it's best to bet on them ASAP. The Packers may be +900 to win the Super Bowl in October but after a surge in November their odds could jump to +400 and you'll make less money than you would if you'd bet them at +900.