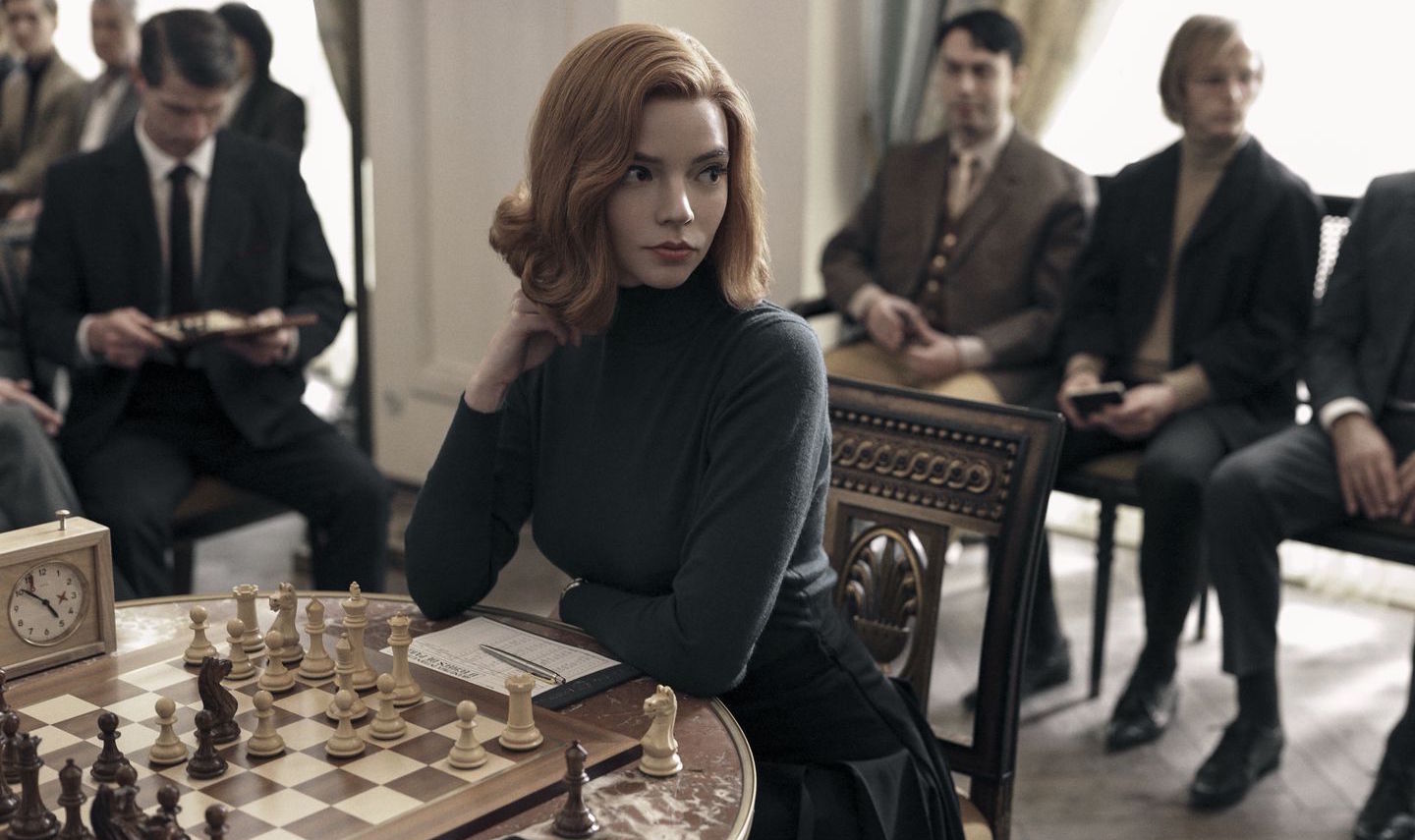 Why?
Obviously the series is a visually chic production that reinvents the game of 64 squares with lavish production value and design. Co-writer and director Scott Frank films the limited series in a restrained and desaturated color palette of earthy tones and contemporary pastels. Sequences like a chess tournament montage at an Ohio university moves in virtual rhythm with Mason Williams' grandiose "Classical Gas" orchestrations. When coupled with editing that reduces her opponents to squares on the screen, suddenly Beth and viewers alike are looking out at a sea of vanquished pawns, and her real rival (a deliciously obnoxious Thomas Brodie-Sangster) waiting across the field as a nerdy counterculture monarch.
It's clearly a visual throwback, but the appeal of the series doesn't truly reside in its '60s setting. Instead The Queen's Gambit reminds me of a different era when smart adult entertainment about sacrifice, say Chariots of Fire or Amadaeus, could be regularly anticipated and celebrated… in movie theaters. Based on Walter Tevis' 1983 novel of the same name, Queen's Gambit feels like a sharp underdog story from that era—a hero's journey for grown-ups where the protagonist's superpower is intellect and chess is sexy. Is that a fantasy? Maybe. But it's one many are finding comforting at a moment where they worry if intelligence, and institutions that should be as ironclad as a chess rulebook, are enough to still win the day.
Before Scott Frank cracked the code of turning it into a miniseries, there were previous attempts at adapting The Queen's Gambit. The most famous near miss was Heath Ledger's hope to turn the story into his directorial debut with Ellen Page as Beth Harmon. That film fell apart after Ledger's tragic death in 2008, but other attempts at adapting this yarn go back to its '80s publication, with filmmakers like Michael Apted and Bernardo Bertolucci being attached at one time or another.
It is easy to see why it would've appealed as a movie several decades ago. With its emphasis on young Beth Harmon battling drug addiction and collecting an assortment of allies from her defeated foes as she rises up to face down the Soviets in the belly of the Moscow beast, it's an anti-hero's Cinderella story—one with uppers, downers, and the ever reliable Vodka Gibson. Yet unlike so many other anti-hero yarns, our underdog is a woman who is popping pills and having flings: Ann-Margret finally with a seat at the table.