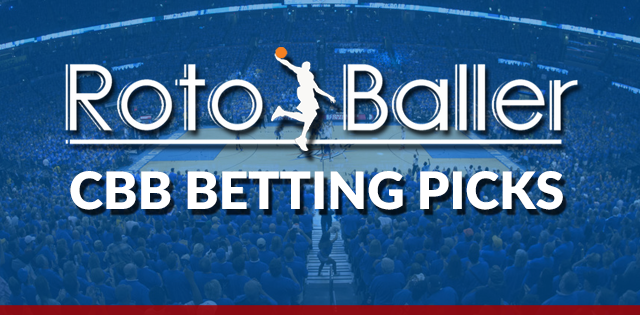 Welcome back! In this article, and every week, we'll be giving you some of the top college basketball games and betting picks for Wednesday, January 13, 2021.
Last week's slate of games resulted in a minor setback with a 1-3 week. New Orleans and Central Arkansas found themselves in a track meet in Conway, and New Mexico was utterly manhandled by Utah State in back-to-back blowout losses to the Utah State Aggies. Wofford squandered a first half double digit lead against UNC-Greensboro, but Saint Bonaventure ensured that the week would not be a winless one with a convincing putdown of Saint Joe's. The 1-3 week drops the season-long record to 13-8.
Here are some of the top college basketball betting picks. Let me know your thoughts, and follow along the action with me on Twitter @fredetterline. All game times below are Eastern Standard Time.
Featured Promo: Get any full-season NBA Premium Pass for 50% off. Get access to our exclusive Draft Kit, preseason rankings, rookie coverage, DFS lineup tools, powerful Research Station, Lineup Optimizer, daily DFS lineup picks/cheat sheets and more!
Sign Up Now!
Season record to date: 13-8
Furman @ The Citadel – 3:00 pm
Coach Bob Richey's Paladins have become a household name among mid-major programs. Furman has dominated the recent in-state series with their Palmetto state rivals, winning eight of the last ten matchups. Redshirt senior forward Clay Mounce is a battle-tested veteran forward who leads an experienced roster. He'll be aided by fellow star Noah Gurley, who paces the Paladins with 15.2 points per game. The Paladins' starting lineup sports five upperclassmen (2 seniors and 3 juniors), and their experience has come up big with a 2-0 start in conference play. Despite three marquee non-conference games scheduled against Richmond, Alabama and Cincinnati, the Paladins walked away and to this point with their premier wins being over the College of Charleston and Mercer – hardly world-beaters. Wednesday's game marks the 214th all-time matchup between these teams, with Furman holding the 126-87 advantage.
The Citadel Bulldogs have started 2020 with an undefeated and impressive surge. Sporting an 8-0 record, the Bulldogs remain the only spotless team in the Southern Conference. Coach Duggar Baucom is in his sixth year at the helm of this program, which not only trains the student-athletes on the court but also prepares them for military service as one of the premier U.S. military academies. Graduate transfer Tyler Moffe is the floor general, coming to Charleston, South Carolina after a 3-year pit stop at Mansfield University in Pennsylvania where he started 60 games and emerged as one of the best players in the Pennsylvania State Athletic Conference (PSAC). Against stiffer competition, Moffe has held up well, playing over 30 minutes pre game and contributing across the board. Senior guard Kaiden Rice and sophomore backcourt mate Fletcher Abee provide the Bulldogs with a pair of sharp-shooters who can put points up in a hurry. In the paint, junior forward Hayden Brown has been a difference maker, scoring 23.4 points per game and averaging 10.7 boards as well, and coming off of a 37-point, 13-rebound win over Chattanooga – the Bulldogs' first conference win in their last 20 tries, and the first since the 2018-2019 season. Even against a relatively soft schedule, The Citadel's 8-0 start and promising band of future military leaders shapes up fairly well against the middle-of-the-pack SoCon teams, and they should be able to make things competitive with Furman.
Pick: The Citadel +15.5
Northwestern @ Ohio State – 7:00 pm
Evanston, Illinois is a tough place for a basketball coach. Coach Chris Collins, a former Coach K disciple, did take Northwestern to its first and only NCAA Tournament appearance back in 2017, but has had a tough time making ground in the difficult Big Ten Conference, as he enters his eighth year at the helm. The 6-4 record doesn't look ideal on the outside, but some of those wins do include a home victory over Ohio State, a road win over Indiana, and a home win over Tom Izzo's Michigan State Spartans. With zero scholarship seniors on the roster, the Wildcats do have much to look forward to and build upon for future seasons. Junior forwards Miller Kopp and Pete Nance were both considered borderline top-100 prospects in 2018, and average double figure scoring for Coach Collins. Even the bright spots though have been out of form lately, considering three consecutive conference losses by 15 points or more. As the competition continues to get stiffer, the Wildcats will continue to slip down the Big Ten standings.
Battling through the pandemic, Coach Chris Holtman's team has trudged on. The non-conference schedule was light, but a win over UCLA will look good in March. Junior forward Justice Sueing was the top offensive option at California for two seasons before transferring to Columbus and playing more off-the-ball. Sueing's efficiency has skyrocketed, converting 2-point baskets to the tune of nearly 64% and turning the ball over less. Point guard Duane Washington Jr was recruited of the famous Sierra Canyon High School in California, and is the tone-setter for the Buckeyes offense in his first full season as a starter. While his field goal percentage lags below 40%, Washington makes up for it with his contributions on defense and his elite 92% free throw shooting percentage. The Buckeyes depth is enviable with former Bucknell star guard Jimmy Sotos and former Harvard star Seth Towns both coming off of the bench. The talent on this team is unquestionable, and if Coach Holtman can continue to help the team coalesce around each other, this will be a sleeper team to make a deep run in March.
Pick: Ohio State -8
Texas A&M-Corpus Christi @ Southeastern Louisiana – 8:00 pm
The Texas A&M-Corpus Christi Islanders sport a 3-6 record, and 10th year Head Coach Willis Wilson will surely be ready for conference play to finally get underway. In Coach Wilson's introductory press conference he said that he wanted the Islanders to become "the premier program in the Southland Conference, and follow down the paths of a Butler, Gonzaga, George Mason or Virginia Commonwealth." Outside of a solid run from 2014 to 2016, Wilson's teams have fallen far short of his lofty goal. Due to COVID-19, the Islanders haven't played a game since December 22, with their past five games being canceled or postponed. Surprisingly, recruiting to Corpus Christi has been difficult, so Coach Wilson has opted to go down the junior college route quite a bit. This year, he brought in five junior college transfers, including three from the Community College of Beaver, about an hour north of Pittsburgh, Pennsylvania. Senior forward Perry Francois is scoring 11.6 points per game and paces the Islanders on offense. All three of the Islanders' wins this season came against Division III or NAIA opponents, and they've been largely steamrolled otherwise.
The Southeastern Louisiana Lions, sitting at 2-9 this year, can certainly be classified as a "football school," with three FCS playoff appearances in the past decade. Coach David Kiefer, in his second year in charge, had one of the youngest teams in college basketball last season (and it showed with an 8-23 record). The benefits of giving six freshmen such significant playing time a season ago is beginning to pay benefits in Hammond, Louisiana. The Lions scratched and clawed their way to road wins over California Baptist and Grambling State, and have stayed competitive against the likes of Louisiana Tech, Purdue-Fort Wayne, and Lamar. Senior guard Keon Clergeot, a native of Winter Haven, Florida and former UMass transfer, is the top option on offense, scoring 14 points per game, but contributing little else across the stat sheet. The defense will need more from Senior Canadian forward Elijah Ifejeh, who came to Hammond as a transfer from nearby Louisiana-Monroe. Ifejeh was heralded as the Lions' best rim protector and rebounder, but foul trouble has limited his impact in the early going.
Pick: Southeastern Louisiana -1
Thanks for reading, and remember to gamble responsibly.
More Fantasy Basketball Analysis