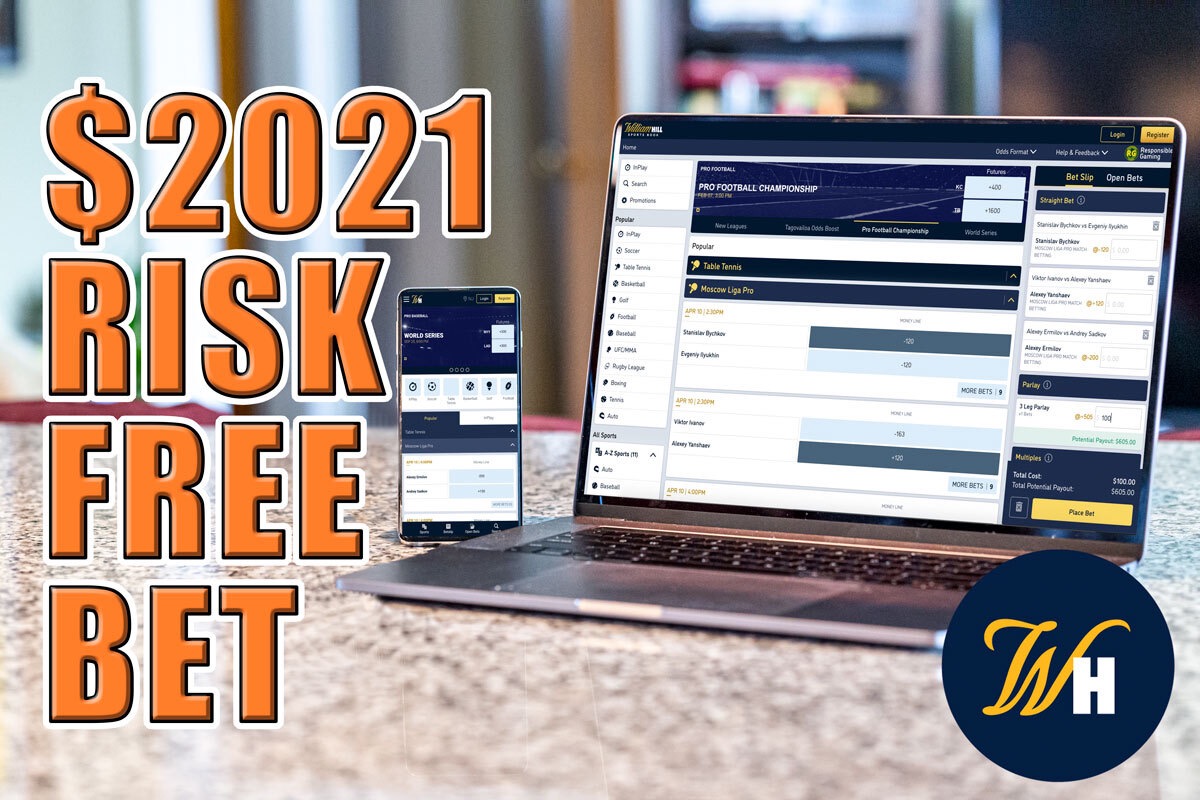 William Hill is stepping it up in February with a massive free bet in states such as Michigan, Virginia and Colorado.
William Hill new players in Michigan, Colorado and Virginia are eligible for a $2,021 risk-free bet through the end of February.
Normally offering a $500 risk-free first bet, the popular online sportsbook app is upping the ante more than four times that number in select states.
William Hill decided to push their new-user promo to $2,021 for the rest of February. New users have fewer than two weeks to take advantage of this ridiculous bump to their standard risk-free bet.
The Super Bowl has come and gone, but there are still tons of interesting markets to use your risk-free bet on. The NBA and college basketball seasons are starting to really heat up and February is jam-packed with golf and tennis events as well.
Sign up with William Hill in Colorado by clicking here and grab a $2,021 risk-free bet.
William Hill's Insane Risk-Free Bet
This is one of the best sign-up bonuses that you will find at any sportsbook. Period.
Upping the risk-free bet from $500 to $2,021 is a huge step up for bettors. Of course, bettors are not guaranteed a win with this risk-free bet, but they can't possibly lose anything on it.
William Hill does risk-free bets better than most other sportsbooks.
While others will refund a losing bet in site credit, William Hill gives you a voucher that you can select in your bet slip. If you win on a typical spread with -110 odds, you are winning upwards of $1,800 on your very first bet.
Remember, this offer is only available to new users in a handful of states (Colorado, Michigan and Virginia). You must be 21 years of age or older to play at William Hill.
Getting Started With William Hill
Now that you understand the full scope of this $2,021 risk-free bet, let's go through the steps necessary to claim this offer. Here is exactly what you need to do to get started.
Sign up with William Hill in Virginia and Michigan by using the appropriate links on this page. Do it in Colorado by clicking right here.

You will need to input some basic information to register your account.

Deposit funds into your account through any number of secure and convenient methods.

Popular depositing methods are PayPal, bank transfer, and credit/debit cards.
A Busy Month of Sports
Even though football season is over, there is no shortage of sporting events to use your $2,021 risk-free bet on.
The NBA season is in full swing and college basketball teams are scrambling to build their resumés for the NCAA Tournament. Winning a risk-free $2,021 bet right before March Madness begins would give bettors a nice little cushion for a wild month of betting action.
There's also NHL, golf, and tennis going in February as well. This offer is available through the end of the month, but Colorado, Michigan and Virginia bettors should not wait to take advantage of this insane new-user promo from William Hill.
Sign up with William Hill in Colorado by clicking here to grab a $2,021 risk-free bet.